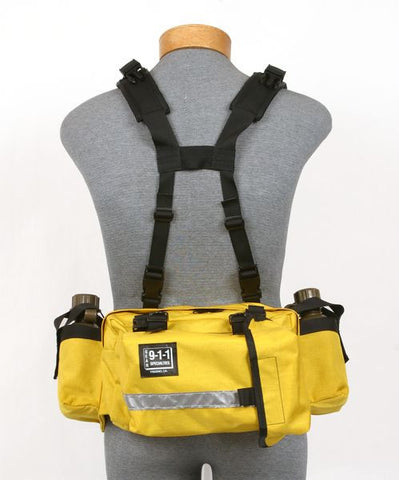 Helitack Web Gear
This Wildland Web Gear is also readily adaptable for Search and Rescue work, and is the most comfortable you will ever wear! start with the fully padded waistpack, with its roomy main pocket for carrying equipment, food or whatever.
On the back of the main pocket is the Fire Shelter compartment. There are straps on top for holding fusses. On both sides of the main pocket are padded canteen pockets.
The shoulder straps are fully padded and have a chest strap that is adjustable for comfort. Clips are in place for attachment of our day pack to the web gear. (sold separately). Constructed from Cordura.  3in. W x 12in. L x 7in. D. (400ci)
Fits New Shelter Size.